This year's edition of the North Coast Music Festival brought a massive experience to SeatGeek Stadium, and it was nothing short of magical.
---
Chicago North Coast Music Festival ended the summer in style. Taking place on September 2-4, this year's edition hit the shores by storm, welcoming some of the best names in electronic music and experiences ranging from massive installations to healing house music yoga. With 3-day GA passes sold out ahead of the festival, it was no surprise that this year is about to be thrilling.
In the true last days of Chicago summer fashion, the weather was perfect on the first day of the North Shore. It was sunny and 75 with the occasional overcast. A fine breeze that kept you from feeling like you were fighting to stay in the crowd was wonderful. As the clock hit 2 p.m. on Frioon, the lines that grew long as Coasters waited for the gates to open began to dwindle. Security was quick with their search, which is often not the case at many festivals, so set the tone for the rest of the weekend.
Located just outside of a major city, the North Shore felt expansive this year – the stage production was on tap, the vendors were plentiful and the energy was thriving.
Experiencing the six stages throughout the event, the Stadium, Vega, canopy, Incendia fireplace, cold domeand silent disco all were particularly intimate and you could feel a shift in energy, atmosphere and sound as you moved from one stage to the next. There was also plenty of room to dance around and avoid excessive sound bleeding. Each stage attracted a completely different audience, and the production was perfectly tailored to the artists who would be performing. This is often rare, especially for an urban festival where noise regulations are usually stricter.
Food and drink vendors exploded all weekend. Food was quick and there were plenty of vendors to choose from, including vegan and vegetarian options. Stadium concessions were also available, so Coasters didn't have to leave the stadium stage to grab a bite to eat. I couldn't stop myself from devouring the carne asada tacos of Tacos Marios. Did we also mention the short drink lines? There were lots of drink tents so there was always a short wait or no wait at all. The North Shore also offered many different drink options, including but not limited to a Hornitos seltzer stand, Corona Electric Beacha monaco tent, and several Red Bull tents.
Retailers were also poppin'! They were located on walkways from stage to stage, giving attendees easy access to the shop until they dropped off. One of my favorite retailers was liquid dream art which had a provider combined with KritterKlips. The UV green, furry, reversible bucket hat was hard to pass up. There were even two buttonholes to clip your KritterKlips on.
Another element of the festival that stood out was the crowds. I hardly noticed any urgency and the coastal people throughout the festival seemed to really take care of each other. I often feel frustrated being in crowds because of a lack of "excuse me", pressure or respect, but this has happened very few times. There was definitely a sense of "community" in North Coast.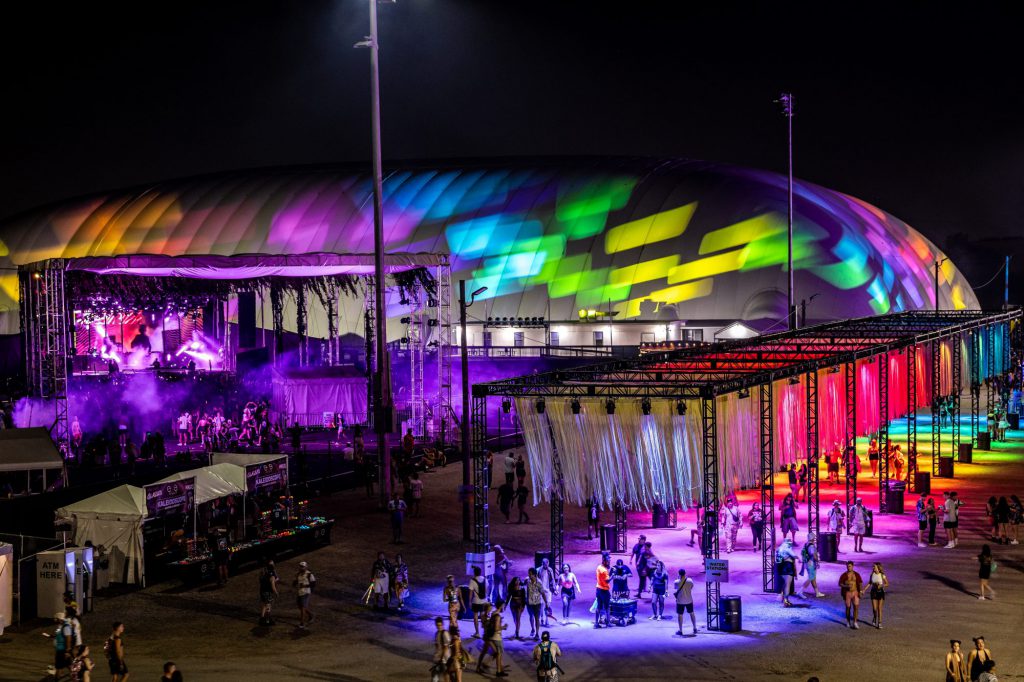 Electronic music flourished, and there was a little something for everyone.
North Coast successfully held a lineup where several different electronic music subgenres performed simultaneously on different stages. Being a bass music lover, I made the Vega stage my home for most of the first day. Vega's schedule was as follows: Black-smith., Space Wizard, Higher level, Dirt Monkey b2b SubDocta, Rusko, Boogie-Tand finally, Subtronics to end the night. I needed to get my fix of house music, so I caught up with the first half of Fisherman at the Canopy just before Subtronics took the stage.
Day two was a whirlwind of emotions as I tried to shift the vibes. Start the day with an experimental bass, mersiv was the act of choice. I switched to strictly house vibes with Dombresky to be continued then back to dubstep chaos to Wooli. As if this variation of electronic music wasn't already intense, a Malaa x Tchami No Redemption set was also on the program. To end the second day, I became a sad girl on the future bass headliner ILLENIUM.
On the last day I knew I was going to get another good dose of dubstep because of DEATH SVDDEN closing the Vega stage. But to my disbelief, TO HAVE TO DIE! and optics threw a ton of hardstyle into their sets. Hardstyle isn't my cup of tea, but I witnessed a lot of punching, so kudos to them for playing something different. SVDDEN DEATH's VOYD set ended the night and sealed the deal on the diversity of sounds heard throughout the weekend.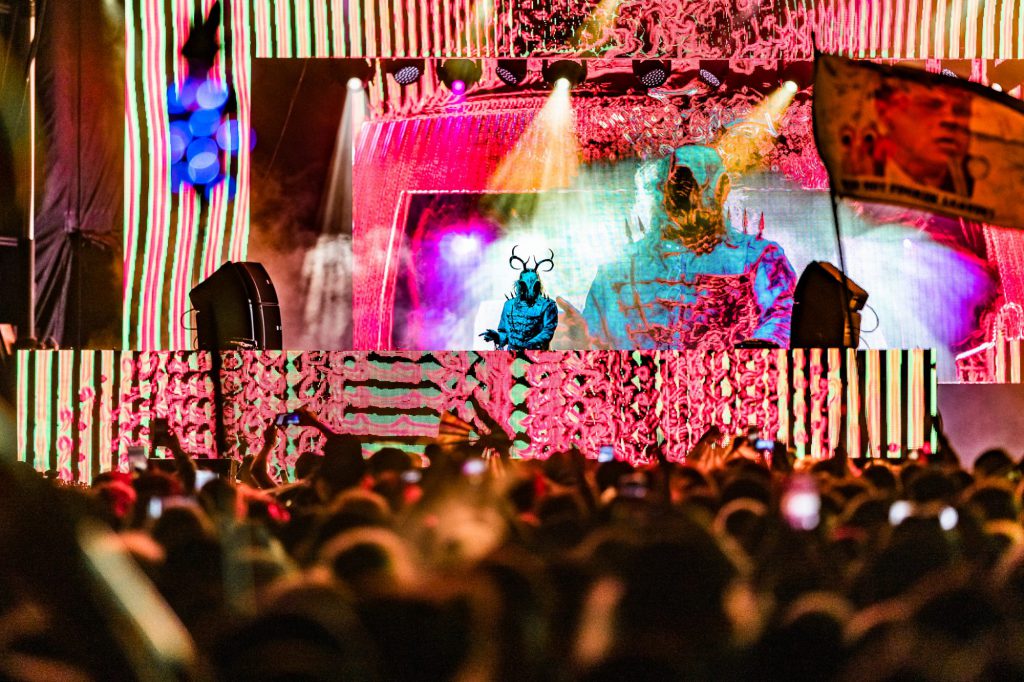 Up-and-coming artists had the chance to be in the spotlight at North Coast.
With the current state of the music industry, seeing a festival give small artists a place to showcase their talent becomes a big hit. There was a ton of new talent on the Incendia fireplace scene and silent disco. One of my favorite acts of the whole weekend was Chicago Ashton, which was the second act at Incendia on the first day of the festival. It drew a large crowd and kept the energy high throughout; it was a perfect way to start the weekend. With an emphasis on house music, he also incorporated experimental bass tracks throughout. Closing his set with his collaboration with Saxogenleaving the crowd feeling groovy and energized.
Other notable up-and-coming artists who have played some of the heaviest dubstep sets I've seen include Breakdown, Yunitand three wise monkeys. Outage and Yunit performed set after set on the Incendia stage on Saturday. They both drew an incredibly hyped crowd. It's hard not to stay energized at their sets as they bring a heat that will leave you jaw dropping. Three Wise Monkeys performed at Silent Disco on Sunday, but their set was simply amped up.
North Coast knows how to create experiences outside of musical performances.
The emphasis on space to relax and just the ambiance was a big plus. One of the most memorable moments was listening to MC and beatmaker Uncle El at the Chill Dome. The beats were in sync with the lasers and the air conditioning was terrific. Another space focused on relaxation was the Rainbow living room. The entrance to this area was through a cylinder creating a perfect photo op. Once inside the living room, large hammocks of all colors form a circle. It created a sense of community and a place to relax.
Artistic flair was shown through larger than life installations. The sky fields looked more lavish than ever, acting like a monumental tunnel of color blowing through the breeze. Covering a path between stages, this area reminded us to enjoy the journey as much as the destination. One of the most notable works of art was the 1978 38-foot Chris Craft boat repurposed by Bam creates. As a member of North Coast Yacht Club experience, the SS Bam was covered in fascinating artwork and also quite a fun time.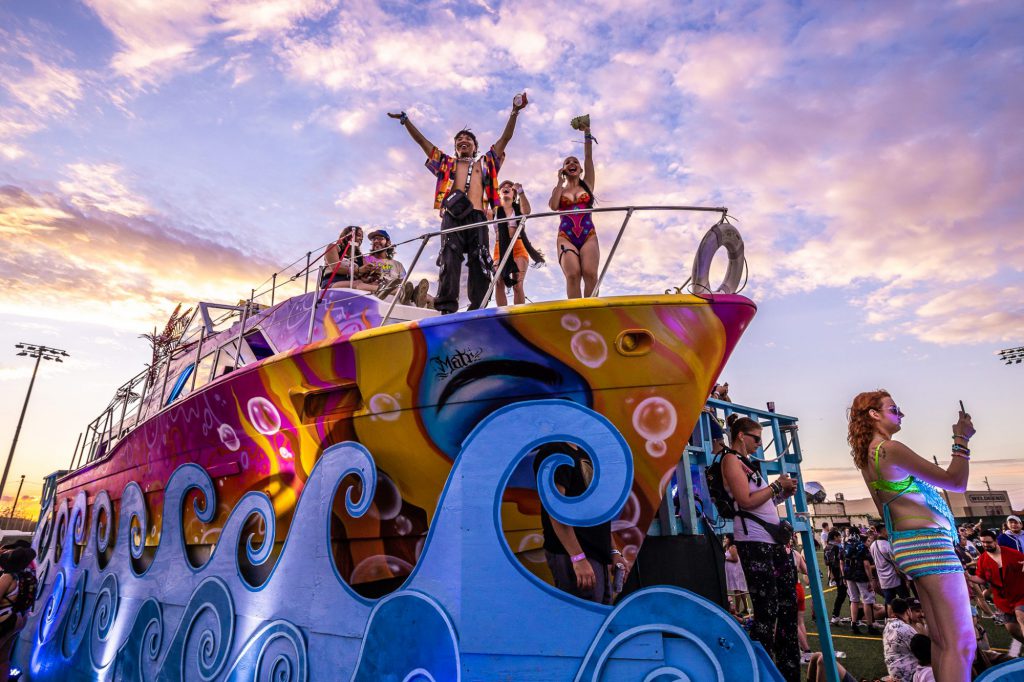 Although it faces the Arc Music Festival, which takes place the same weekend in Chicago, the future looks bright for North Coast.
It's no surprise that concerns arise when music festivals vie for attention, especially those taking place in the same city over a major holiday weekend. However, ARC Music Festival attracts a particular audience with house and techno artists, while North Coast consists of artists from all electronic subgenres. These two festivals are very different experiences, but both bring their own twist that should help them support each other in the Windy City.
Overall, the North Coast Music Festival had another successful year filled with iconic electronic music talent, immersive experiences, plenty of vendor options and great vibes. With this positive energy flowing from the festival, we look forward to seeing it continue to evolve for many years to come.
---
Connect with the North Coast Music Festival on social media:
Website | Facebook | Twitter | instagram