Jonson Kuhn | New SCENE
Okay, folks, now you know the drill: there are bands in town, I interview them and ask some really insightful questions that no other interviewer might have ever thought of asking. So this time it's no different; the group in question? Oh, just a little old band called Foxfeather, have you ever heard of them? Well, you better keep up to date while you still can, because in no time at all it's going to be one of those local bands that's going to explode and leave the rest for us to say trivial things like, " I was a fan before everyone else!
The band is made up of Carly Ricks Smith and Laura Paige Stratton… sort of, but we'll get to that. Carly and Laura were funny enough to take some time out of their busy schedules to talk about their new album. Nature of things AND a really cool show coming to the Magic Rat on Friday January 7th at 8pm. North Forty managed to get a timeshare in the Alps just outside of Liechtenstein and that's where my interview with the bodacious girls from Foxfeather took place. We only have the condo for half an hour of the year (as you can imagine, it's really expensive) so this interview had to be shortened a little more than usual. Now here is that very conversation.
TNS: As far as I know, Nature of Things came out this year, didn't it? It seems like such a fitting title for the times we live in now; Can you tell us where the idea for the album came from and what it was like to record with Octave Records?
FOX FEATHER: Yes! We had the chance to work with PS Audio and Octave Records to release our new album "The Nature of Things". This is our fourth project as Foxfeather, our second full album and our first experience with DSD. We were near our early forties when we were approached by Octave Records and asked to be on their label and make an album. We were delighted to be involved and immediately began to rebuild our record. The songs we chose for the album cover a wide range of times for Laura and I (Carly) as writers. "24 Years", the sixth track, is the oldest, having been written around 2009. "End of My Rope", "Lunatic", "Ghost of You" and "Fillin 'Me Up" had performed in the group's live. sets for months or years waiting to be recorded. Then there's the addition of songs written in the early months of the Covid pandemic. The album's namesake and first track, "The Nature of Things," the "can't bring me down" plea "Too Damn Small", the album's heart-wrenching conclusion, "Lonely Feeling," are all songs that were written specifically for this album. As artists, we deal with our grief and shock in the best possible way – by writing. All of this adds to the meaning and importance of the full album, "The Nature of Things". Checking in to DSD was a big change for us. The process is more complex and sensitive than the technology we have been used to working with. That being said, the product is phenomenal and well worth the extra time and care. DSD recordings are made with the auditor and the equipment they use in the foreground; the public is the priority. It is aimed at the audiophile but sounds equally amazing to the middle ear. We couldn't be more proud of the record we released through Octave Records, and we sincerely thank everyone involved in the process.
TNS: I see a lot of photos that only show you two, but sometimes I see other people in the photos as well. Are there more people in the group or have these people been superimposed on the photos to create the illusion of having a larger group?
FOXFEATHER: While we (Carly and Laura) are the founders, managers and main songwriters of the band, we have an incredible group of musicians behind us! Over the years, the group has adapted, with multiple variations of the group. One advantage of this arrangement is that Foxfeather has a versatile performance ability. We can play with a few like two (Carly and Laura) and have played with up to nine! This allows us to adapt appropriately to the spaces of the places and to the booking needs. That being said, we're absolutely in love with our current lineup. Over the past few years, we have had the privilege of working regularly with Jay Elliott (percussion), Mark Dabrowski (bass) and Blake Smith (electric guitar). These three are incredibly important to our sound and our progress as a band, and they all feel like family.
TNS: "End of My Rope" is a really funny song, I had it in my head all day. I like the title because I think it is (at least personally) very relevant because I feel at my end of the line on a daily basis, stuck in traffic jams, in a long line at Chipotle, etc. The lyrics are the most intriguing part, they say a lot about poisonous apples and give warnings to keep things clear, are you able to share a preview of what exactly this song is about
FOXFEATHER: "End of My Rope" is definitely a band and fan favorite. When we (Carly and Laura) wrote the song, in 2018, there was definitely some frustration and a little bit of anger boiling to the surface. The song, as stated in the chorus, is a warning. A warning not to doubt the power of the woman standing in front of you. To "walk lightly" and "beware" when it takes on its full meaning. It's an immensely personal song, and the writing process was intense for us. But, our goal as songwriters is not just to tell our story, but to create a model that others can apply theirs to. We hope this song can do both, and we're so glad you like it so much. Keep your eyes peeled for the release of the "End of My Rope" clip in early 2022!
TNS: Your music sounds so fresh but yet so familiar at the same time, I listen to your songs and I can't help but wonder, "why don't they open for Brandi Carlile ?! So, I'm wondering if you could pick a band / artist to open for, who would you pick for and why?
FOXFEATHER: If you can get us that reservation, we'll be there! We love Brandi Carlile! Her musicality and voice, as well as the topics she tackles in her writing, are all huge influences on us as artists. Other huge influences for our sound and growth as musicians include Bonnie Raitt, Lake Street Dive, Beth Hart, Margaret Glaspy, Sharon Van Etten and many more.
TNS: Inline skating seems to be something very important to all of you; I think it's super cool, but I was wondering if maybe you could unwrap this a bit? Also, have you considered contacting Sonic for a sponsorship? (I don't know, once upon a time there were Sonic employees bringing you food on skates, but it was like the 1980s, so I'm not sure how dated this joke might be).
FOXFEATHER: Sonic approached us! I'm joking. But, yes, we love to roller skate! Even though, after the last two years of pandemic and quarantine, we're probably a little rusty. If you've seen the music video for our song "Come and Get Me", you've seen our skating skills in action. When brainstorming the themes for the video, we wanted something fun and nostalgic. The lyrics of the song are actually quite sad and lonely, they tell the story of an empty house – a house that breaks – and hearts that break with it. The video juxtaposes this with fun and frivolity while transporting the viewer to an era of naive hope.
TNS: Your show arrives January 7 at the Magic Rat at 8 p.m. with a special guest TMule. For one of those fools who for some reason hasn't attended a live Foxfeather show yet, how would you describe that experience?
FOXFEATHER: We are delighted with our night at the Magic Rat with TMule! We love Fort Collins. The music scene, the people, the vibe, all come together to make it one of our favorite cities to play. We also can't wait to perform our first show with local and must-see FoCo, TMule. He is an extraordinary musician that we have had the pleasure of knowing for many years. Foxfeather likes to balance the mellow and intimate with soulful rock, so get ready for a roller coaster of emotions. We'll have the whole band set up, including the electricity, bass, percussion and keyboards, and be ready to party. We'll see each other there!
Many thanks to Carly and Laura from Foxfeather for giving New SCENE some of their time and attention and for traveling to Europe for a thirty minute interview and covering their own costs! For more information on the next show, please visit foxfeathermusic.com or MAGICRATLIVEMUSIC.COM.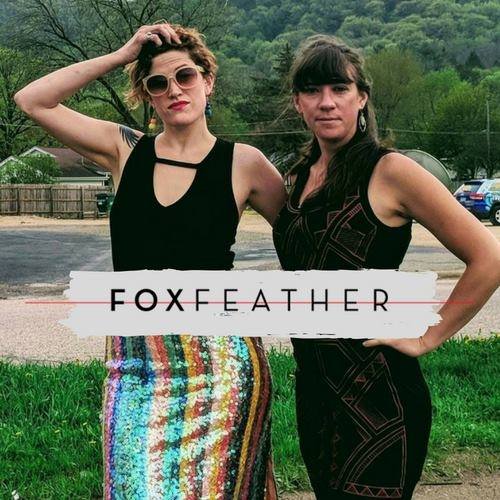 Did you like what you just read?
Show your support for local journalism by helping us do more. It's a kind and simple gesture that will help us keep telling you stories like this.
Click to donate